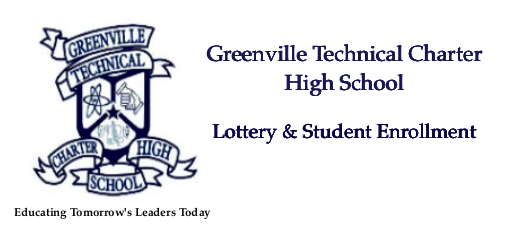 General Information:

Welcome to the Greenville Technical Charter High School Family Dashboard Account! All parents/guardians are required to set up an account in order to complete a lottery, enrollment, or waitlist application.
At this time, do NOT send any documentation. If you are selected for a seat, you will be notified regarding the rest of the process and what documentation is required.
Available for 2023 - 2024 School Year
Available for 2022 - 2023 School Year
For More Information, Contact:
Greenville Technical Charter High School
506 S Pleasantburg Dr, Bldg 119
Greenville, SC 29607
Phone: 864-250-8844
For Technical Support Contact:
Scribbles Software
Email: help@scribsoft.com


---
Business Hours
Monday - Friday
8:00 AM - 3:00 PM