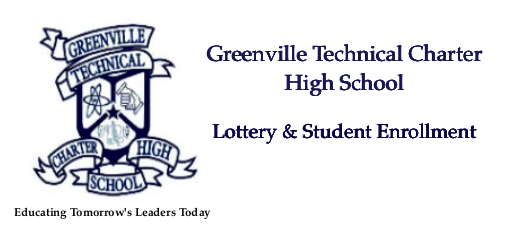 General Information:

Welcome to the Greenville Technical Charter High School Online Platform for Student Enrollment and Lottery Applications!
The GTCHS lottery is closed. If you wish to be placed on the waiting list for the Class of 2025, please continue with this application and select the GTCHS Waitlist Application for the appropriate student. If your student will be in the Class of 2024, 2023, or 2022, they can join our waiting list HERE
If you are enrolling at GTCHS for Second Semester, starting January 5, 2021, please complete the New Enrollment for the 2020-2021 School year. Make sure you have uploaded or emailed the required documents no later than Friday, December 11. Please see the complete list of required documents on our website, under Admission/Enrollment Process HERE.
If you have been accepted to GTCHS through the lottery and are enrolling your student for the 2021-2022 school year, please complete the New Enrollment for the 2021-2022 School year. Enrollment documentation is required prior to the Intake Meetings in February. Please note that we must have the final first semester grades (second-quarter report card) also prior to the Intake Meeting.
Available for 2021 - 2022 School Year
Available for 2020 - 2021 School Year
For More Information, Contact:
Greenville Technical Charter High School
506 S Pleasantburg Dr, Bldg 119
Greenville, SC 29607
Phone: 864-250-8844
For Technical Support Contact:
Scribbles Software
Email: help@scribsoft.com
Phone: (855) 465-1458
---
Business Hours
Monday - Friday
8:00 AM - 3:00 PM